February 9, 2022
by Linda G. Miller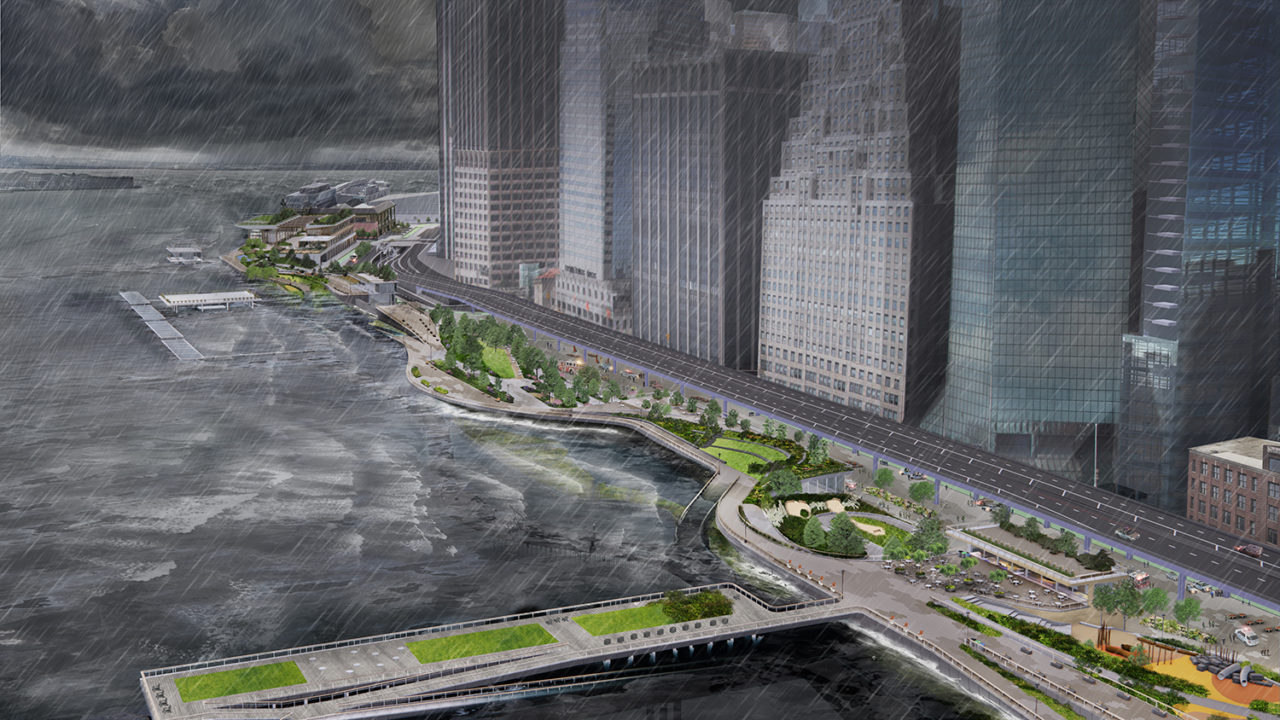 CO Adaptive Transforms Former Metal Foundry Into the Mercury Store
CO Adaptive has transformed a former metal foundry from the early 1900s into the Mercury Store, a developmental space for theater artists. Located in the Gowanus section of Brooklyn, the 12,700-square-foot aluminum-clad renovation restores the character of the heavy timber building, exposing its substantial wood trusses and reinforcing its double A-frame while opening up previously subdivided spaces. Old longleaf pine timber has been restored, while new insertions are made from cross-laminated timber (CLT), making the project the first to use CLT on a fully commercial building in New York City. Half of the ground floor was removed to create a double-height assembly space for rehearsals and performances. On the other half, bleachers create a central gathering and circulation zone that connects the main assembly space and breakout rooms to the upper level, which contains two additional smaller studios and an administrative area. Here, a new CLT floor structure with glulam columns and girders has replaced existing joists and the subfloor, allowing for an open layout with large column spans. The existing heavy timber trusses remain unaltered and exposed. Removed wood joists were reinserted as railing posts to frame the bleacher opening, and an orange metal door, repurposed from a different area, hangs from a new track to separate the administrative offices. In response to the project's low-lying site and, a demountable, sprung-wood flooring was installed across the main performance space, which lies a story below grade. Designed collaboratively with Hudson Scenic, the system can be disassembled and relocated to higher ground by lifting the finish layer to access a puzzle of removable 3-by-6-foot panels. Charcoalblue served as acoustic designers.
El Portal Visitor's Center in El Yunque Reopens Following Renovation by Marvel
After sustaining significant damages in 2017 from Hurricane Maria, the El Portal Visitor's Center in El Yunque National Rainforest in Puerto Rico reopened following a renovation by Marvel. The visitor's center serves as the gateway to the only tropical rainforest in the U.S. Parks System. At nearly 29,000 acres, it is one of the smallest rainforests in size, yet one of the most biologically diverse, containing hundreds of animal and plant species that are only found in the territory. The renovation brings diverse and sustainable enhancements to the center, including a new entry plaza and gardens, a café, exhibition and meeting areas, a commercial kitchen, multi-use pavilions, and an accessible walking trail. New passive ventilation was installed at the exhibition, café and multi-use pavilions, accomplished via new roof structures with clerestory windows and shading structures. In order to achieve LEED Silver certification, the architects implemented solar-ready infrastructure, water harvesting, and green infrastructure additions, among other strategies. New interpretative exhibitions were designed by Split Rock Studios. The center also features several pieces by local artists. The reception desk and interior signage were custom-designed and built by Puerto Rico Hardwoods with recycled local mahogany boards from the forest. Originally designed by Puerto Rican architectural firm Sierra Cardona & Ferrer, the project had undergone no significant changes since its opening in 1996. When the USDA Forest Service decided to overhaul El Portal and update its offerings, it held a  competitive process and awarded the design-build contract to Marvel, along with Interlink Construction.
Alloy Completes 168 Plymouth
Construction at 168 Plymouth, designed and developed by Alloy, has been completed. The 90,000-square-foot residential loft, located Brooklyn's DUMBO Historic District, is composed of two interconnected landmarked buildings of different architectural styles plus two contemporary additions. The renovated building contains 46 units ranging from one- to-four-bedrooms and has 23 different layouts. The "Brick and Timber Building," completed in 1891, was used for storage and manufacturing and will now be home to 18 loft units, two townhouses, and two new penthouses. The adjacent "Daylight Factory Building," built in 1921, was used for paint manufacturing and was most recently occupied by Phoenix House. Now it contains 20 loft homes, along with one townhouse and three new penthouses on the top. The Brick and Timber homes feature restored painted brick, exposed beams and columns, and large factory windows, whereas the residences in the Daylight Factory offer exposed concrete beams and columns and oversized factory-style windows. All of the townhouses have private entries on Jay Street and the penthouses have their own terraces. Residents share access to a private cobblestone courtyard with native plantings and a landscaped roof terrace with cabanas designed by landscape architects at Future Green Studio. This project marks one of the last factory-to-loft conversions in DUMBO and Alloy's fifth development in the neighborhood.
Grzywinski+Pons Designs Buckle Street Studios by Locke Aparthotel
Grzywinski+Pons's has designed Buckle Street Studios by Locke, a ground-up hospitality project in Algate East, one of London's creative hubs. The approximately 38,000-square-foot, 13-story "aparthotel" is designed for short and long stays. The warm grey brick and glass block building contains 103 compact apartments, a mezzanine co-working space, a coffee shop, meeting rooms, and a concept store. While constraints of a small floor plate precluded formal setbacks, ordered material shifts were employed throughout to define a pediment and crown. The base of the brick building is clad in rusticated, nickel-finished metal panels. In the public spaces the principal organizing element is the parabolic arch. As seen from the street through expansive glazing, the arch supports and defines the mezzanine within the double-height space at grade while consolidating the load of the front half of the building above. The crown of the building was designed to be equally proportionate to the base and is clad completely in glass block. When the rooms are lit from within, the crown glows. The firm also designed much of the furniture in the public spaces and in the apartments.  Vitrins, surrounded by curved banquettes, sofas, and soft stools and clad in porcelain and glass display merchandise sold in the concept store. Using a palette of blush-tinted clay, timber, jute, and stone neutrals, the apartments features custom sofas, tiered tables, and hanging timber trays. The firm has designed four projects for Locke, including the hospitality company's first project, Leman Locke, which is adjacent to this Buckle Street.
Habitat Workshop's "Bloom" Named Winner of Times Square Love and Design Competition
Habitat Workshop's "Bloom" has been named the winner of the 14th Annual Times Square Arts Love and Design Competition. Fabricated by IDEKO, "Bloom" is a homage to collective love. From above, the bundles of red PVC pipes that support the circular canopy appear as a series of hearts. From below, the structure is experienced as a buoyant cloudscape where the pipes overhead, descending to different heights, become vaulted portals that allow light to peek through from all directions. The structure channels the brightness of Times Square, showering down rays of light that greet visitors as they enter the structure, serving as a reminder of the moments of happiness and joy that persevere even in the shroud of darkness. At night, billboards, buildings, and headlights cast a changing spectrum of colors and light onto the installation. In addition to Habitat Workshop, A+A+A, bioMATTERS, Devang Arvind Shah, and Studio Fierro were invited to submit proposals. Located in front of the Red Steps in Father Duffy Square, between 46th and 47th Streets, "Bloom" is presented in partnership with the Museum of Arts and Design. The installation will be on view through March 9, with special events taking place on Valentine's Day.
City Releases Financial District and Seaport Climate Resilience Master Plan
The New York City Economic Development Corporation (NYCEDC) and the Mayor's Office of Climate Resiliency (MOCR) released the Financial District and Seaport Climate Resilience Master Plan, a blueprint for comprehensive flood defense infrastructure to protect Lower Manhattan from the urgent threats of climate change. Community groups worked with the City to shape the plan, which reimagines the shoreline of Lower Manhattan to create a resilient waterfront that withstands severe coastal storms and rising sea levels. The master plan encompasses almost one mile of waterfront, from the Battery to the Brooklyn Bridge. The plan features a multi-level waterfront that extends the shoreline of the East River by up to 200 feet from its existing location. The upper level will be elevated by about 15 to 18 feet to protect against severe storms and will double as public open spaces. The lower level will be a continuous waterfront esplanade, raised three to five feet to protect against sea level rise. Next year, the City will move forward with the next phase of design and engineering needed to apply for federal funding and obtain required permits from state and federal regulatory agencies. Comprehensive flood protection could be in place by 2035. In addition to MOCR, the Departments of Transportation, City Planning, Parks, and Environmental Protection have been involved. The interdisciplinary consulting team, led by Arcadis, includes ONE Architecture and Urbanism and Scape Landscape Architecture. The blueprint is part of the larger Lower Manhattan Coastal Resiliency (LMCR) strategy.
In Case You Missed It…
Leong-Leong is designing The Norma,, an 80,000-square-foot, 11-story residential building in Bedford Stuyvesant that will offer 100 percent affordable home ownership opportunities. The mixed-use building features 44 one-, two-, and three-bedroom condos for low- to moderate-income households. An urgent care facility on the ground floor will offer medical services. The building is expected to comply with Passive House standards, using fully electric mechanical heating and cooling systems. Almat Urban and the Bed-Stuy Restoration Corporation are developing the project with financing through the NYC Department of Housing Preservation and Development's Open Door Program. The Norma is named in honor of Norma Merrick Sklarek, the first African American woman to pass her licensing exam and officially become an architect in both New York and California.
Pace Gallery is establishing 125 Newbury, a 3,900-square-foot space on the corner of Broadway and Walker Streets in Tribeca. The interior space will be fully renovated by Bonetti/Kozerski, who designed Pace's gallery in Chelsea.
Cooper Robertson has been selected to develop a campus master plan for the Munson-Williams-Proctor Arts Institute, a fine arts center in downtown Utica, NY known for its Philip Johnson-designed art museum, Pratt Institute-aligned arts school, and active performing arts division. Located on 10 acres within a primarily residential area, the planning aims to enhance the institute's role as a neighborhood anchor and regional cultural district.
Spacesmith adaptively reused a former 7,500-square-foot 1940s clothing factory into a production and retail operation for cheese purveyor and gourmet food producer Talbott & Ardling in Hudson, NY.
The redesign and expansion of Montefiore Square in Harlem has been completed. The expansion, which will enable NYC Parks to stage enhanced community festivals, performances, and green markets, tripled the size of the site. The square has a central terraced lawn with curved granite walls, benches, gardens, and upgraded infrastructure. AECOM served as design consultant and SWA/Balsley was the landscape architect. The project was managed by DDC and was honored at the Public Design Commission's 33rd Annual Awards for Excellence in Design.
Redesigned by Huff + Gooden Architects under DDC's Design and Construction Excellence 2.0 program, the Steinway Library in Astoria, Queens has reopened. To preserve the interior space of the 12,500-square-foot library, the elevator shaft was constructed in the building's rear garden. It features an aluminum-framed curtain wall enclosure made of translucent glass panels to provide diffused light and views into the courtyard. Improvements include a new ADA-accessible ramped entrance and three new restrooms, including an all-gender, single-occupant, ADA-accessible restroom.
The redevelopment of Lever House by SOM, the building's original architect, is underway. The project will bring updates to its ground-floor public plaza and lobby. The building's third-floor roof terraces overlooking Park Avenue will be joined by a tenants-only club with a lounge, restaurant, and conference venue. Completed in 1952, Lever House became one of the first modern buildings in the city and the newest to be designated a New York City landmark when it received the designation in 1982.
Marcel Breuer's first binuclear house, Geller I in Lawrence, NY was demolished in the dead of night on January 26, 2022. Geller I is largely considered the project that propelled Breuer to private practice in New York and prompted the Museum of Modern Art to commission him to design an exhibition house in the museum's courtyard in 1949.