January 20, 2021
by Linda G. Miller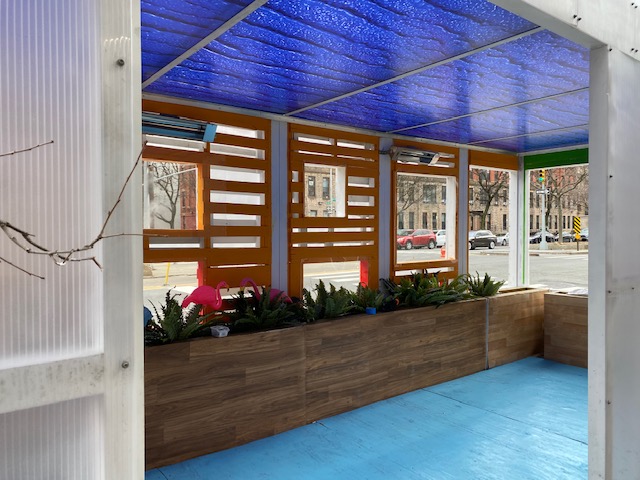 SOM's Moynihan Train Hall Opens its Doors
The new Daniel Patrick Moynihan Train Hall, named for the visionary U.S. senator who proposed the project in the 1990s, has opened its doors to New Yorkers and travelers on the Long Island Railroad, Amtrak, the New York City Subway. Situated across from Penn Station, the SOM-designed Train Hall expands the complex with a 486,000-square-foot rail hub in the landmark James A. Farley Post Office Building. The new train hall is located in the 31,000-square-foot former mail sorting room and features a skylight that traverses the entire space, arranged in four catenary vaults. To support the structure, SOM uncovered the building's three massive steel trusses and chose to reveal them as a major focal point of the design. Each of the four vaults is comprised of more than 500 glass-and-steel panels. The trusses are each equipped with new lighting fixtures that illuminate the train hall at night. On the middle truss, a new clock—designed by Peter Pennoyer Architects and inspired by the analog clocks once prevalent at the original Penn Station—marks the center of the room. Drawing inspiration from the historic post office as well as Grand Central Terminal, SOM designed the station's interiors with Tennessee Quaker marble. Along the eastern wall, four LED screens help brighten the hall at night with New York State-themed imagery designed by Moment Factory. Commuter amenities include ticketing and info kiosks designed by SOM, Amtrak waiting rooms designed by the Rockwell Group, an Amtrak Metropolitan Lounge by FXCollaborative, and a food hall designed by Elkus Manfredi. At entrances on 31st and 33rd Streets, SOM implemented new canopies to solidify the civic presence of the station and complement the arched windows of the Farley Building. Art installations by Elmgreen & Dragset and Kehinde Wiley grace the 31st Street and 33rd Street entrances. Governor Andrew M. Cuomo has announced a proposal to revamp Penn Station further to create the Empire Station Complex. The plan would create a new terminal south of the existing site, adding eight new tracks. It would also extend extend the High Line via an L-shaped, 1,200-foot-long walkway to connect the elevated park to a pedestrian path at Manhattan West, a mixed-used development adjacent to the train hall.
Body Lawson Architects Designs Harlem Parklet
Body Lawson Architects (BLA) has designed a 160-square-foot parklet in front of local brunch and dinner hot spot Ruby's Vintage in Harlem. Inspired by ice, the parklet is constructed of clear polyethylene roof panels supported by dimensional wood framing clad with insulated frosted polycarbonate on a substructure of reclaimed wood palette infill. Weatherized with heaters, the structure accommodates diners with proper social distancing and ventilation. Within its walls, a protected yet open public space is being used to host poetry readings and discussions, inspire creative social engagement, and accommodate a new art installation by New-York based artist LeRone Wilson, whose work references of the ancient artistic medium of beeswax and its role in African history. The BLA parklet is part of the Renaissance Pavilion, a new dining and recreation corridor from 137th to 139th Street on Adam Clayton Powell Jr. Boulevard in the historic neighborhood of Striver's Row. Through the initiative, created for Uber Eats with WXY architecture + urban design and scaffolding company Urban Umbrella, six independent, black-owned restaurants and businesses have been outfitted with a system of custom-designed parklets. Harlem-based architects JP Design and Brandt:Haferd also designed parklets for the project, which will comfortably seat patrons now through April 2021.
Rock and Roll Hall of Fame Selects Expansion Team
After submitting an RFQ to 22 world-class firms, the Rock & Roll Hall of Fame in Cleveland has selected Practice for Architecture and Urbanism (PAU), James Corner Field Operations, Cooper Robertson, and L'Observatoire International to design a 50,000-square-foot expansion to the existing 150,000-square-foot 1995 building by I.M. Pei/Pei Cobb Freed. While the design concept will continue to evolve, the plans provide the space and function needed to support the museum's mission, which is to engage, teach, and inspire through the power of rock and roll. The newly designed museum will bring more space to engage with visitors including hosting more concerts and community events. The project includes the design of a museum campus alongside the Great Lakes Science Center, creating a lakefront gathering place for residents and visitors. In addition to adding new space for event and educational programming, on-site archives, interactive learning classroom, and indoor performances, the expansion includes an additional 10,000 square feet for large-scale traveling exhibitions. Construction is expected to begin in early 2022. Cleveland-based Robert Madison Int'l/DLR is the architect of record.
Snøhetta Unveils Blanton Museum of Art Redesign
Snøhetta has unveiled a comprehensive grounds redesign for the Blanton Museum of Art at the University of Texas at Austin. The new initiative will unify and revitalize the museum campus across approximately 200,000 square feet, including two buildings and Ellsworth Kelly's Austin, creating a new cultural nexus where Austin's civic center meets the University of Texas campus. Founded in 1963, the Blanton Museum holds the largest public collection in Central Texas with around 19,000 objects. In the firm's redesign, a series of architectural additions work together with public shade sculptures and a lush landscape to give the museum a bold new presence. The museum's landscape vision is defined by a series of new gardens and entry points that knit the grounds together with the streetscape and campus. The project's landscaping will highlight native Texas flora. Rising above the trees and plantings of the central gathering space, a canopy of petal sculptures creates a shaded microclimate with dappled light that follows the sun. The canopy's curving outlines, inspired by the arched vaults of the loggia that outline the museum, help highlight views of the chapel and the Texas State Capitol. Standing 40 feet tall, each petal is made of perforated panels and spans 30 feet in diameter. Paths, benches, and vegetated areas shape clear circulation routes through the museum courtyard. In the courtyard's center, a main lawn and raised seating area provide space for a variety of events. Construction is scheduled to begin in early 2021 and conclude by late 2022
Soft-Firm's Love Letters Selected as Winner of Love in Times Square Design Competition
Times Square Arts has selected Soft-Firm's Love Letters as the winner of the 13th-annual Love in Times Square Design Competition. Two interlocked hearts create a socially distant urban amphitheater with four programmed chambers: the soapbox, loveseat, chapel, and wishing well. Plywood panels are alternated with mirrored windows, allowing the surface to shift with the visual landscape of Times Square and create open views between spaces. The north-south elevation of the installation is sheared on a plane that reflects the incline of the TKTS booth below the Red Steps in Duffy Square, creating a view corridor that ties together the bronze statues of Chaplain Francis P. Duffy and George M. Cohan. Safety nets are interwoven within the plywood, serving as a poetic armature. The structure features secluded seating sections at multiple levels, giving visitors a space for meditation and reflection, as well as the opportunity to view Times Square safely from different vantage points. The installation invites the public to participate in the installation by leaving their own love letters within the sculpture. Continuing the ancient custom of votive offerings, the ritual of tying a ribbon to a wishing tree, or a love lock to a bridge, visitors are invited to tie a wish, a memento, or an artifact onto the netted underlay, such as letters of protest, a note to a lost loved one, or a message of appreciation to essential workers. The 2021 competition is presented in partnership with Reddymade, the winner of the 2019 cycle. This year's material constraint of plywood was developed in collaboration with and inspired by worthless studios' Plywood Projection Project. Fabrication consultation was provided by UAP Company. The other architecture and design firms invited to submit proposals included Office of Tangible Space, Present Forms, Studio 397, and Studio Cooke John. Love Letters will be unveiled at 11 am on February 10, 2021 at Father Duffy Square. The installation will remain on view through March 10, 2021.
BFA Restores Entry Courtyards for Hudson Heights Art Deco Apartment Buildings
As standout examples of the refined art deco architecture prevalent in the Hudson Heights located near Fort Tryon, 720 and 730 Fort Washington Avenue have undergone a restoration of their landscaped entry courtyards by Belmont Freeman Architects (BFA). The pair of 1939 cooperative apartment buildings, originally designed by Jacob M. Felson, had previously undergone a restoration of their public spaces, but by 2017 the severely deteriorated courtyard needed attention: decorative concrete architectural elements were crumbling, frost and tree roots had caused planter walls to heave, and metal railings were corroded. BFA retained the basic layout of the entryways but reconfigured the steeply sloped site with tiered planting beds, broad granite steps, and new bluestone paving. New stainless-steel handrails recall the original metalwork, and the firm worked closely with the restoration contractors to replicate original cast stone ornamentation. On the courts' walls, the design team replaced the outer wythe of brick, which had been awkwardly patched and mismatched over the years, with precast blocks carefully calibrated to match the color of the original limestone that surrounds the restored entry doors. In collaboration with Wald Studio, BFA designed new lighting, including custom wall sconces, to create a safe and welcoming ambiance for the courts at night.
In Case You Missed It
The Society of American Registered Architects (SARA) conferred 34 awards for 2020, with 14 New York firms represented: GLUCK+ for the Cary Leeds Center for Tennis & Learning; ikon.5 architects for the Health and Wellness Center at Suffolk County Community College and Ingersoll Hall Renovation at Brooklyn College; Desai Chia Architecture for Ledge House; Magnusson Architecture and Planning for Livonia Avenue Intiative – L2; COOKFOX Architects for 512 West 22nd Street; Mitchell Giurgola for BAM Strong; David Scott Parker Architects for Williamsburgh Savings Bank; Studio Joseph for New Glass Now Exhibition at the Corning Museum of Glass and the Manhattan Pet Adoption Center; Deborah Berke Partners for High Street Residence Hall at Dickerson College; BKSK Architects for Congregation Habonim; Handel Architects for The Essex at Essex Crossing; Ricardo Zurita Architecture & Planning for Zucker's Bakery & Café; DXA Studio for 280 St. Marks Avenue; Edelman Sultan Knox Wood / Architects for the Thomas S. Murphy Clubhouse Pool at the Madison Square Boys & Girls Club of Brooklyn; and Murphy Burnham & Buttrick for the Eli M. Black Lifelong Learning Center and the Grace Church High School Athletic Center.
Union Square Partnership has unveiled a new vision for Union Square-14th Street that will increase public space around the square by 33 percent. Designed in collaboration with Marvel, the plan is the culmination of a two-year-long process working with community members, local business leaders, urban designers, landscape architects, transportation experts, and City and State agency partners.
DRAW Brooklyn announced plans to develop an abandoned factory site and transform it into the Model Block, a mixed-income housing and light manufacturing project in the Red Hook section of Brooklyn. The project is designed by Arquitectonica, AE Superlab, and Marpillero Pollak Architects.
Hou de Sousa's installation Ziggy, which was on view in 2019 at the Flatiron Public Plaza, is now on view in the Financial District plaza at 200 Water Street. Toronto-based RAW Design's Prismatica, which was on view in the Financial District in 2019, has been relocated to Broadway between 39th and 40th streets in the Garment District.