May 27, 2020
by: Linda G. Miller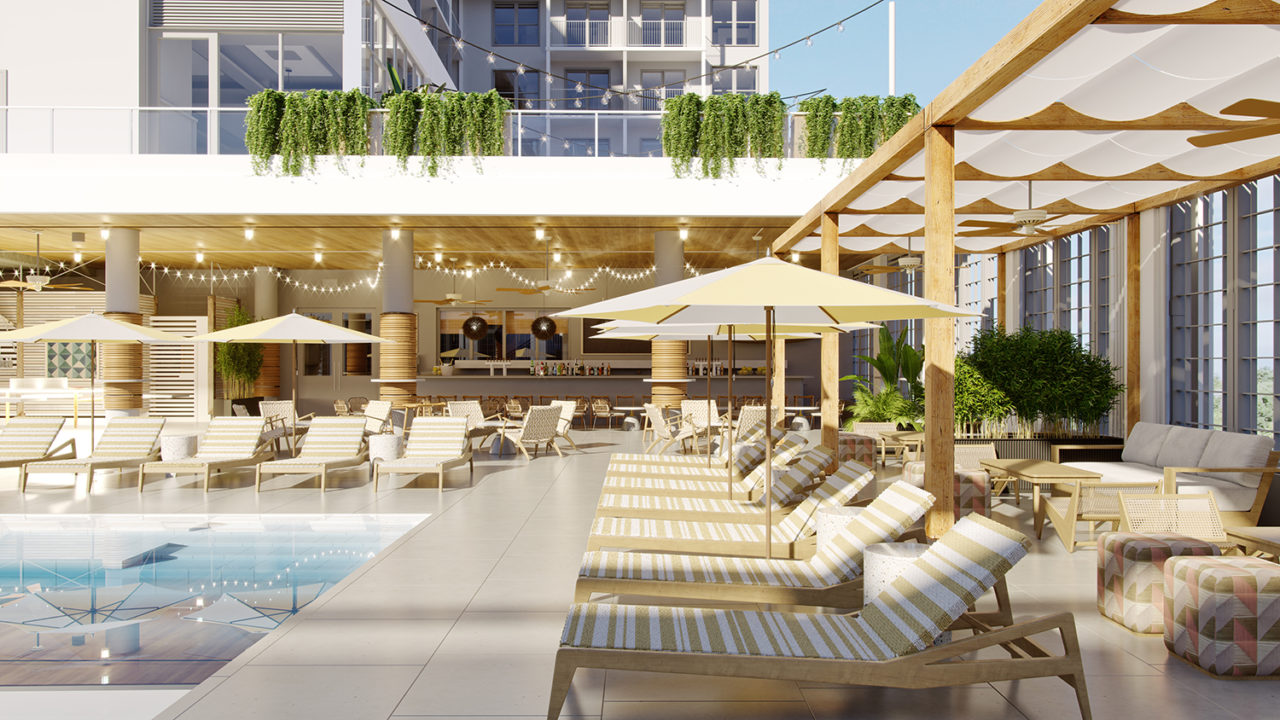 The Rockaway Hotel by Morris Adjmi Architects and Curious Yellow Set to Open this Summer
Designed by Morris Adjmi Architects, the Rockaway Hotel plans to open this summer at 108th Street and Rockaway Beach Boulevard, just two blocks away from the Atlantic Ocean by one of Rockaway's designated surfing beaches. During its heyday, Rockaway was variously dubbed the Queens Riviera, a destination for idle rich and working-class vacationers alike. As Rockaway enjoys a resurgence as a summer destination and a year-round residential neighborhood, the hotel has been designed to function both as an urban getaway for "city folks" and as a hub for locals. The six-story, 84,000-square-foot hotel contains 25,000 square feet of indoor and outdoor event spaces, four food and beverage options, an outdoor pool area, a spa, 54 guest rooms, and eight long-stay suites. All accommodations have water views, with some facing Jamaica Bay with the Manhattan skyline in the distance and others facing the ocean with terraces to take in the breezes. The design of the hotel blends modern amenities with the feel of other seaside resorts, with a nod to Rockaway then and now. The exterior of the hotel complements local restaurants and pubs and the once-ubiquitous bungalows, many of which are now being rehabbed. The building incorporates aspects of a bungalow, including welcoming porches and clapboard and cedar exteriors. On the interior, materials such as teak, linen, wool, leather, and rattan create a retro, beachy atmosphere with a color palette of yellow, blue, and pink. With an emphasis on supporting the culture of Rockaway Beach, the hotel will collaborate with local organizations, artists, and brands to produce programming. Events will include festivals, film screenings, artist panels, and public art initiatives. Public spaces and guest rooms will feature a rotating selection of artwork from local and internationally renowned artists. The hotel is also collaborating with local brands such as Rockaway Brewing Company, Locals Surf School, and Goldies. The hotel is developed by 7G Realty and IGC Hospitality. Curious Yellow Design served as the hotel's interior designer.
Rockwell Group Designs Template for Socially Distanced Dining
During the first days of the pandemic, Rockwell Group realized that adjustments would have to be made to how we dine out. The firm developed an adaptable kit of parts based on research on national and international projects, their experience in restaurant design, and their modular work, which includes Imagination Playground and the TED Theater. The adaptable design will allow for expanded dining and sanitizing/health stations that fit into the sidewalk and part of the abutting streetscape, envisioning way in which outdoor space can be adapted to restaurant use while maintaining social distancing. Using Melba's in Harlem as a site-specific example, the design allows for varying numbers of seats and includes sidewalk fencing and planter benches to create a sense of separation. Any decision to enlarge outdoor dining spaces would have to be made by the city with the help of community boards, block associations, and BIDs.
Marvel Architects Completes Master Plan for Staten Island's Snug Harbor
Marvel Architects, working with a comprehensive team, has completed a master plan that will ensure a sustainable future for Snug Harbor Cultural Center and Botanical Garden on Staten Island's northern waterfront. Beyond immediate infrastructure and short-term improvement, the 15-year Capital Project Master Plan will develop, restore, and enhance assets; improve campus-wide infrastructure performance; and create an inviting visitor experience for the entire 83-acre campus. Today's Snug Harbor is the result of more than four decades of restoration and development to convert a 19th-century charitable rest home for sailors to a regional arts center, botanical gardens, and public park consisting of 28 buildings—including six original structures that are NYC landmarks—14 distinctive botanical gardens, a two-acre urban farm, wetlands, and park land. The plan calls for creating a new pedestrian central hub and a primary loop walkway that circumnavigates the site and touches all major program areas, parking, and entry points. New plazas and playgrounds, and a new visitors center and café, will be built. Reflecting the growing importance of Snug Harbor's Heritage Farm, a new horticulture building, farm ecology pavilion, and horticultural greenhouse will be created. Several buildings will be restored and reactivated for flexible theater use and for artist's lodging, and waterfront access will be improved with a restored dock. The project is under the auspices of the NYC Department of Design and Construction and consultants include The LiRo Group (engineering), Nelson Byrd Woltz Landscape Architects (landscape architecture), and Jan Hird Pokorny Associates (historic preservation).
Perkins and Will, Arup, and Schmidt Hammer Lassen Team to Retrofit Buses into Mobile COVID-19 Testing Labs
Perkins and Will, in collaboration with Arup and Danish firm Schmidt Hammer Lassen, have proposed a design for mobile COVID-19 labs in retrofitted, out-of-use school buses. The labs would be located in high-density and under-served neighborhoods, populated by people who do not own cars and therefore can't visit drive-thru testing sites. The team identified five key parameters that define the success of the testing process: mobility, accessibility, speed, flexibility, ease of implementation, and scalability. As outbreaks occur in different locations, these deployable healthcare units can be quickly assembled to respond in real-time. The system gathers essential geolocation and test-result data, allowing real-time data feedback-loop to help authorities with strategic decision-making. The testing process begins outside the bus with an external registration area. A technician scans the patient's barcode and retrieves a sample from behind a protective barrier. The sample is then brought into the bus and passed into the lab where it is analyzed by lab techs. Results are submitted to an official database and the sample is discarded.
Union Crossing Mixed-Use Hub by Woods Bagot Set to Open
Final paperwork and surveys are now underway to transition to Final Certificate of Occupancy for Union Crossing, a new mixed-use commercial hub with a mix of office, light industrial, retail, and restaurant spaces in the Port Morris section of The Bronx that has been adaptively reused by Woods Bagot. Originally built as a major baking facility for the Great Atlantic & Pacific Tea Company (A&P), the building was later purchased by Union Standard Equipment Company and became the world's largest warehouse and rebuilding facility for food processing and packaging equipment. Developers hope that the adaptive reuse of the 250,000-square-foot, seven-story building will spark the interest of local businesses that wish to be a part of the transformation of the South Bronx into a hub for arts and industry. The building has been tailored to serve as a center for innovators and creators within the historic neighborhood. A retail market located on the ground level is connected to neighboring retail in the community via public seating and landscaping. In the interior, generously spaced columns with iconic flared capitals provide flexibility for the creation of new interior spaces. The sandblasted concrete is complemented by blackened steel frames and reclaimed wood ceilings to create a rich interior palette. Adjacent to the internal thoroughfare is a new core, which will include new elevators, egress stairs, bathrooms, and back-of-house services for restaurants. This centralized core connects the upper-level office spaces on the second to seventh floors with the retail spaces. New windows punctuate the building's brick exterior with consistent sizes and subdivided window lights modernize the space for office use. A series of interior and exterior walls will rotate different artists' compositions, enlivening the building. The project has been developed by a partnership led by Madison Realty Capital.
This Just In
The NYC Landmarks Preservation Commission unanimously approved plans this week for the Gensler-designed viewing deck on the 61st floor of the Chrysler Building.
The new Squibb Bridge, designed by ARUP, has opened in Brooklyn Bridge Park. The 450-foot-long walkway connects Squibb Park on the Brooklyn Bridge Promenade to Pier 1 in Brooklyn Bridge Park. Constructed of metal, the bridge does not bounce, a feature of the original bridge. The old bridge was demolished in October, but its support pillars were used in the construction of the new structure.
The final piece of Brooklyn Bridge Park, currently fenced off from the public, has been approved by the LPC to be transformed into the two-acre Brooklyn Bridge Plaza. Designed by Michael Van Valkenburgh Associates, the new space under the Brooklyn Bridge will feature new greenery and benches with space for visitors to walk along the waterfront.
Snøhetta, along with Studio Gang and Henning Larsen, have been named finalists to compete for the commission for the Theodore Roosevelt Presidential Library in Medora, North Dakota where the Theodore Roosevelt National Park is located. The library is to work with nature and act as an economic stimulus.
Marion Weiss, FAIA, and Michael Manfredi, FAIA, of WEISS/MANFREDI Architecture/Landscape/Urbanism have received the 2020 Thomas Jefferson Foundation Medal in Architecture. The University of Virginia School of Architecture recognized them for redefining the relationship between landscape, architecture, and urbanism.
The fifth-annual NYCxDESIGN Awards winners were announced in a virtual ceremony hosted by Interior Design and ICFF in 30 categories. Winners include Salvage Swings by Somewhere Studio (Architectural Installation/Pop Up); Journey to Edge by Rockwell Group (Exhibition/Installation); Grand Concourse Academy Charter School by Lubrano Ciavarra Architects (Education); MoMA by Gensler and Diller Scofidio + Renfro (Civic); Ford Foundation for Social Justice by Gensler (Greater Good and Environmental Impact); David H. Koch Center for Cancer Care by ICRAVE, Perkins Eastman, and Ennead Architects, and Bathhouse by Verona Carpenter Architects and Colberg Architects (Health and Wellness); TWA Hotel by Beyer Blinder Belle, INC Architecture & Design, Lubrano Ciavarra Architects and Stonehill Taylor (Hotel, Commercial Lobby/Amenity Space); Asset by Bates Masi + Architects (Small Restaurant); The Zodiac Room by AvroKO (Large Restaurant); Connie Cocktail Lounge by Stonehill Taylor (Bar/Lounge); Frankfurt Kurnit + Selz by Gensler (Office); Hudson Yards Financial Services by Architecture + Information (Financial Services); Shiseido Americas by HOK (Creative Office); Convene, 225 Liberty by Convene (Co-Working Office); Waveform by James Carpenter Associates (Building Façade); 121 East 22nd by INC Architecture + Design and OMA (Residential Lobby/Amenity Space); 40 East End Avenue by Deborah Berke Partners (Multi-Unit Residential Building); Manhattan Triplex by SheltonMindel (Apartment); Soho Townhouse by Joseph Vance Architect (Free Standing House/Townhouse); Brooklyn Heights Brownstone by The Brooklyn Home Company (Kitchen and Bath); 32 East 1st Street Penthouse by Combined and Mathieu Lehanneur (Model Apartment); Ahlem Eyewear by Shapeless Studio Architecture & Interiors (Small Retail/Pop Up); Mooseknuckles Flagship by O'Neil Langan Architects (Large Retail); Lutron Experience Center by COOKFOX (Showroom); High Line Spur by Diller Scofidio + Renfro and James Corner Field Operations, and West Thames Bridge by WXY (Urban Landscape/Outdoor); Midtown Viaduct by DXA studio (On the Boards: Commercial); Rose Hill by CetraRuddy (On the Boards: Residential); and The Statue of Liberty Museum by FXCollaborative with ESI Design (New York's Shining Moment).
Justin Davidson of New York Magazine was a finalist to receive a 2020 Pulitzer Prize for his architecture reviews.