March 4, 2020
by: Linda G. Miller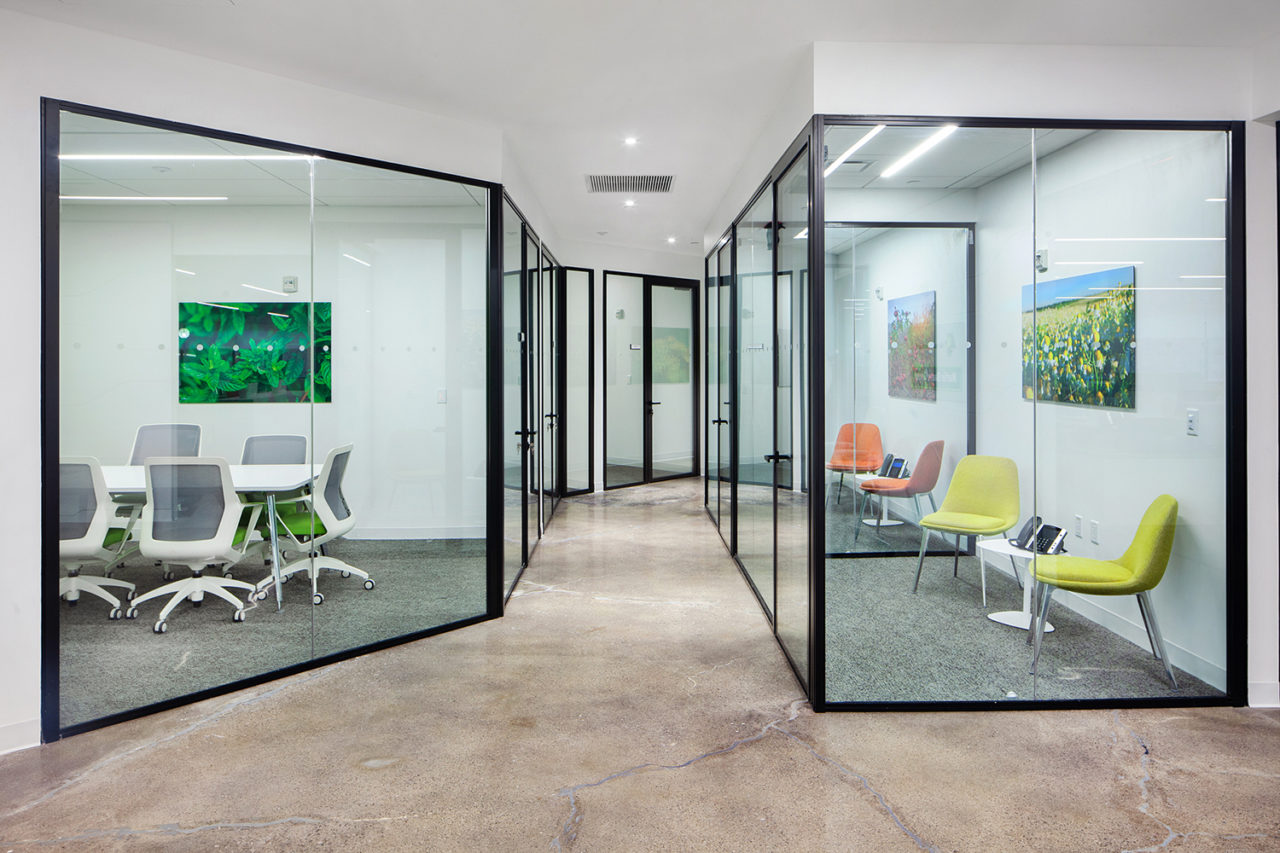 A Veritable City Within a Borough
ODA's Denizen opens in Bushwick
After five years of design and construction, ODA New York has completed Denizen Bushwick in Brooklyn. The 1.2-million-square-foot building, noted for its fragmented facade with rust-colored, deeply recessed windows, is located on the site of the former Rheingold Brewery and consists of 911 rental apartments, 20 percent of which are affordable, and amenities including a coffee shop, game rooms, a rock-climbing wall, a boxing ring, and a microbrewery. A 17,850- square-foot public park bisects the development, creating a green promenade and two 400- by-200-foot blocks. These masses are further perforated by a sequence of meandering, interconnected courtyards that lead to the promenade. ODA's Public Engagement in Neighborhoods (OPEN), a nonprofit organization, was involved in placing 15 large-scale murals throughout the complex, including seven-story corridor walls, a ceiling, and a parking ramp near a public garden. Amenities on the 70,000-square-foot rooftop include a dining area with four kitchens, a mini-golf course, a hammock garden surrounded by a meadow, a dog park, and a fully staffed garden. The roof's long, leafy paths and more secluded spaces are home to more than 250 native New York tree species and over 1,200 species of shrubs and perennials. A rooftop farm will have garden plots available for residents to grow their own food from a selection of over 100 seeds. ODA was responsible for the development, architecture, interiors, and landscape design.
The British Have Returned
Met Museum's British Galleries by Roman and Williams open to the public
A highlight of the Metropolitan Museum of Art's 150th anniversary in 2020 is the recent opening of the newly renovated Annie Laurie Aitken Galleries and Josephine Mercy Heathcote Gallery, with 700 works of art on view. This is the first complete renovation of the galleries since they were established, the former in 1989 and the latter in 1986. Designed by Roman and Williams in collaboration with the Met's curatorial team for the British Galleries, the renovation covers an 11,000-square-foot space devoted to British decorative arts, design, and sculpture created between 1500 and 1900. The reimagined suite of 10 galleries, including three historic interiors, provides a fresh perspective on the period, focusing on its bold, entrepreneurial spirit and complex history. The new narrative offers a chronological exploration of the intense commercial drive among artists, manufacturers, and retailers that shaped British design. A prominent new entrance provides direct access from the galleries for medieval European art, creating a seamless transition from the Middle Ages to the Renaissance. A 17th-century staircase, brought to the Met in the 1930s from a now-lost Tudor manor, has been meticulously conserved and re-erected in the new galleries. Three 18th-century rooms have been transformed by new lighting and painstaking conservation and remain at the heart of the galleries.
Honoring America's Most Valorous
National Purple Heart Hall of Honor by ikon.5 set to open on Veterans Day 2020
Currently undergoing a 4,300-square-foot expansion designed by ikon.5 architects, the National Purple Heart Hall of Honor will reopen on Veterans Day, November 11, 2020. The hall is sited on the slope of Temple Hill in New Windsor, NY, where General George Washington established the Badge of Merit, the precursor to the Purple Heart, which was given for valorous acts during the American Revolution. The building is inspired by the 18th-century, rough-hewn log cabins set into the wooded hillside of Washington's cantonment. A welcoming promenade traverses a steeply sloping site and is lined with five granite benches, each dedicated to a different branch of the military. Weathered steel- and bead-blasted stainless steel provide color and texture to the museum and complement the deep russet hues of the surrounding historic cedar cabins. The project removes a portion of an existing, obsolete Hall of Honor and attaches it to an existing historic barn structure that houses the museum for the New Windsor Cantonment. An enclosed court links the new addition to the existing structure and houses the Purple Heart Roll of Honor, in addition to a welcome gallery, an exhibition space, an orientation/program room, and a gift shop. Adjacent to the Roll of Honor is a contemplative garden that houses an eternal flame for all Purple Heart recipients and an outdoor reflection terrace that overlooks the Catskill Mountains. Washington, DC-based HealyKohler Design serves as exhibition designer. The project is operated by the New York State Department of Parks, Recreation, and Historic Preservation.
High Tea at Martin Bauer Group
MADGI designs Martin Bauer Group's offices in Secaucus, NJ
The Martin Bauer Group, a global leader in tea and botanical ingredients, commissioned the architectural and interior designers at Montroy Andersen DeMarco (MADGI) to design their new office in Secaucus, NJ. The 11,460-square-foot space contains various client requirements, including four conference rooms, three private phone rooms, an open-plan workspace, storage, and four labs. The material palette includes a polished concrete floor, stained grey and finished with sealant, and painted stripes in grey and green that unify the collection of rooms. The 3,200-square-foot open office has workstations for 35 employees. Instead of having a separate space for employee breaks, this space contains a "social area" with tables, chairs, and sofas along one side under a row of windows. While the company's former space was too small to accommodate labs, a component vital to the company's operations, the new space allows customers to experience their entire list of ingredients to create countless innovative blends. Forty percent of the space is dedicated to distinct labs for mixing, boiling, and tasting tea. A 650-square-foot lab also has a large counter for client meetings and tastings. The mechanical system is each lab is self-contained and features moisture control for quality air control.
Urban Terracing
KPF-designed Spring City 66 opens in Kunming, China
Spring City 66, one of the largest commercial complexes in Kunming, China recently opened. Designed by Kohn Pedersen Fox Associates (KPF), the more than four-million-square-foot mixed-used development responds to the landscape of Yunnan Province and its location along historic trade routes. Inspired by the fields and terraces of the region, the project's varied program weaves along multiple levels of terraces lined with shops and restaurants. Convex chevrons create a dynamic interaction between light and shadow during the day, and at night offer a glow through carefully incorporated accent lighting. Strong horizontal elements carved out of the podium create shading and form a key design feature. The building's roof unites the structure into a singular peeling surface, forming an upper sky park. The roof and walls fold to orient users along the public boulevard. The office tower has clearly differentiated facades that respond to solar orientation and views, maximizing natural light to the building's interior while also reducing heat gain. The Y-shaped fins on the east and west façades provide shading, while the north and south façades offer unobstructed vistas to the city. The tower's crown incorporates feature lighting, giving the form a lanternlike quality.
This Just In
The Dallas Theater Center announced that Diller Scofidio + Renfro has been selected to complete the master plan for the restoration of the neglected Kalita Humphreys Theater, Frank Lloyd Wright's only public building in Texas.
Macy's plans to build a supertall above its flagship store in Herald Square, which is listed in the National Register of Historic Places. Designed by FXCollaborative, the tower would house offices and feature a sky lobby with 360-degree views.
Brandon Haw Architects is designing 1501 Penn Ave, a 950,000-square-foot commercial building in Pittsburgh consisting of 13 office floors totaling 520,000 square feet of leasable floor area. At the ground level is a retail colonnade and storefront, public open space, and a 'cycle café'. A tenant amenity floor features common conference rooms, a fitness center, and a landscaped outdoor terrace. The project is being developed by JMC Holdings.
SO-IL has been commissioned to design Boro Textiles: Sustainable Aesthetics for the Japan Society. This exhibition is part of Passing the Torch, a year-long, institution-wide initiative spotlighting the 2020 Summer Games in Tokyo. The exhibition will be on view from March 6 through June 14, 2020.
David Rockwell, FAIA, was named as Contract 2020 Visionary at the 41st Annual Interiors Awards reception. Other awards conferred included the Rockwell Group's The Fleur Room and Feroce Ristorante/Caffè at Moxy NYC Chelsea and Rottet Studio and STUDIOS Architecture's New York Stock Exchange.
The Architects Newspaper will celebrate its First-Annual Design Gala Honorees on March 11. Some projects and people include the TWA (Building of the Year); Studio Gang (Excellence in Building); Kate Orff, SCAPE Studio (Urbanist of the Year); Leong Leong (Interior Excellence), and Sciame (Contractor of the Year).
Anthony C. Wood, founder and chair of the New York Preservation Archive Project, will receive the Preservation Leadership Award as part of The New York Landmarks Conservancy's Lucy G. Moses Preservation Awards on April 23.
After nearly a decade of planning, the Lowline, which hoped to transform a disused trolley terminal on the Lower East Side into a subterranean park, has now gone into dormancy due to lack of funding.