April 18, 2018
by Linda G. Miller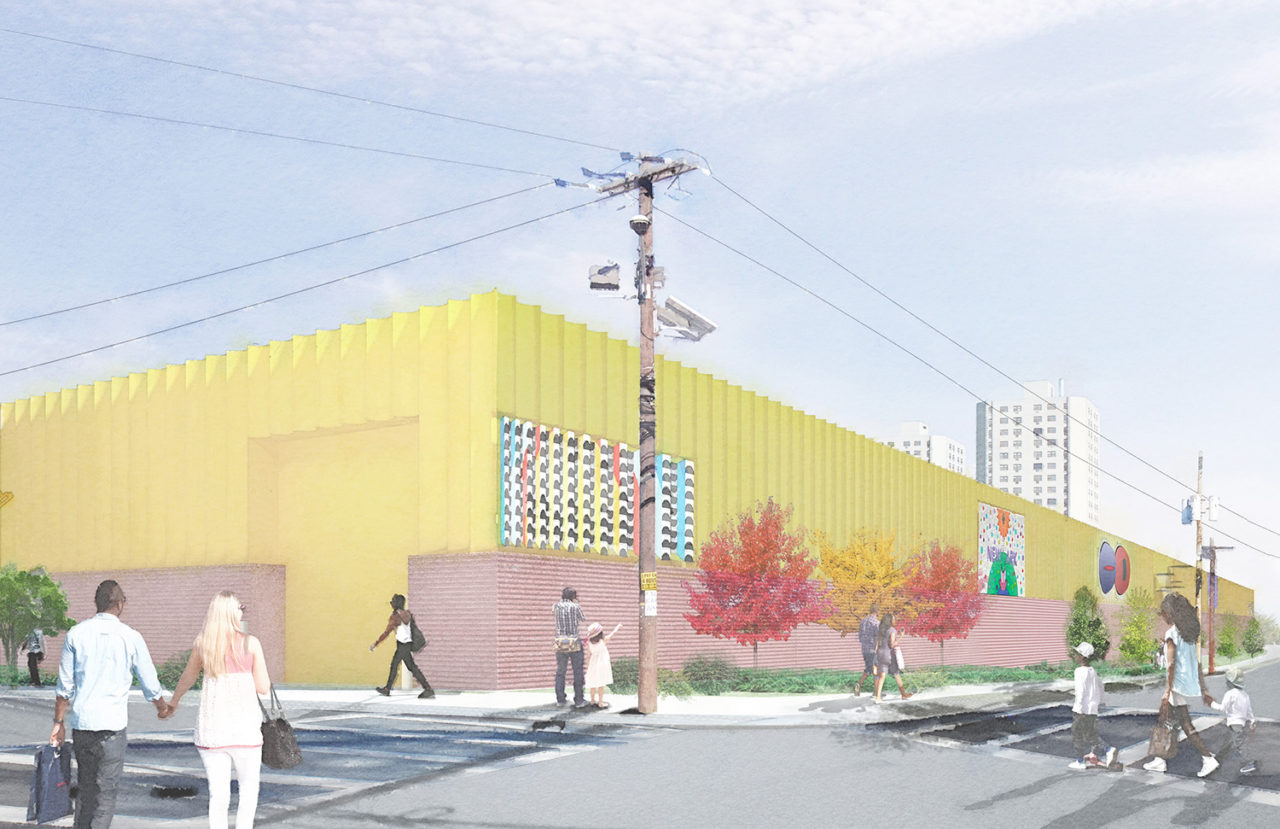 Observing the City from the 100th Floor: Construction begins on Hudson Yards observation deck
Construction has begun on the observation deck at KPF's 30 Hudson Yards. Standing more than 1,000 feet in the air and extending out 65 feet from the 100th floor, upon completion it will be the highest outdoor observation deck in the Western Hemisphere and the fifth highest in the world. The observation deck is composed of 15 primary sections, each weighing between 35,000 and 100,000 pounds. Bolted together and anchored to the east and south sides of the building, the 765,000-pound structure creates a 7,500-square-foot outdoor viewing area. A nine-foot-tall angled glass wall will encircle the deck, and a window in the floor will provide a look at the streetscape below. Programming will include a signature 10,000-square-foot restaurant, bar, and event space. Thornton Tomasetti serves as the structural engineer for this project. The observation deck is scheduled to open in late 2019.
An Inside-Out Gallery for Urban Art: Adjaye transforms infrastructure facade into public art gallery
Adjaye Associates has reconceptualized the protective façade of a PSE&G electrical switching station in the Fairmount Heights section of Newark, transforming a piece of urban infrastructure into a place to showcase public art. Conceived as an inside-out gallery, the nearly 30-foot-tall walls feature original works from 14 local and international artists exploring themes of youth, education, and community. The design also incorporates new green spaces that surround the base of the art wall. Niches for permanent artworks are embedded into a vertical screen of curved, perforated aluminum and corrugated precast concrete that is held at a constant elevation, creating a sense of rise and fall that registers the natural slope variations of the site. The collection is curated in response to these changing slope gradients, allowing visitors to find themselves at eye-level with works at specialized viewing points in the perimeter. The east elevation culminates in a public agora that houses an outdoor market and temporary exhibitions. Access to this new public gathering space is via a porous pedestrian passageway, which is framed by 34-foot columns that taper upwards into 49 weighted canopy tops that support a dramatic overhead art installation. Newark-based WSM Associates collaborated on the project.
Sinuous Silhouette: SOM releases design for Hangzhaou tower
SOM released the design for the Hangzhou Wangchao Center, a 54-story, mixed-use tower containing retail, office, and hotel space set to become the gateway to the newly planned Qianjang Century Town. The silhouette of the close to 950-foot-tall tower is the result of an integrated architectural and engineering solution. An efficient structural system minimizes wind loads with eight mega-columns that slope outward at the corners to create large, flexible floor plates. As the corner columns move further apart, secondary perimeter columns branch out to maintain equal column bays. The undulating façade is highly rationalized, allowing the entire cladding to consist of planar glass panels. Located in eastern China, the city of Hangzhou will host the Asian Games in 2022 and is currently undergoing considerable growth. The tower is expected to be completed in 2021.
Back to the Future: Stonehill Taylor reveals TWA Hotel room design
A model guest room was revealed by the developers of the TWA Hotel at JFK Airport. The room, designed by Stonehill Taylor, is inspired by the sixties and features Eero Saarinen-designed mid-century modern Knoll furnishings, martini bars, vintage rotary phones, and terrazzo-tiled bathrooms with Hollywood-style vanities. The hotel, designed by Brooklyn-based Lubrano Ciavarra Architects in collaboration with Beyer Blinder Belle Architects and Planners, will contain 512 guest rooms set in two new low-rise wings that recently topped out. The project also includes 50,000 square feet of conference, event, and meeting space; eight restaurants and six bars; a rooftop pool and 10,000-square-foot public observation deck; and a museum focused on the Jet Age, the Mid-century modern design movement, and the history of TWA airlines. The complex is expected to open in spring of 2019.
Like a Rolling Stone: HANNAH wins Folly/Function 2018
Socrates Sculpture Park and The Architectural League of New York selected RRRolling Stones conceived by HANNAH, a multi-disciplinary design research practice, as the winner of Folly/Function 2018, an annual juried design/build competition for architects and designers. RRRolling Stones is a movable outdoor seating system made from 3D-printed concrete. The designers exploit the standard ergonomics of a functional chair to create durable, outdoor seating for all-season usage. The seats' playful design encourage interaction and can be configured as linear benches, in small clusters, or as solitary seats that dot the park. The seating was prototyped and printed at the Cornell Robotic Construction Laboratory in Ithaca, New York. Executed in layers of a special cement mixture reinforced with nylon fibers, their striated surfaces reveal their incremental manufacturing process. During printing, the seats' interior is supported with a bed of gravel, creating their cantilevered forms. A layer of gravel remains imprinted on each chair's interior surface, giving it a geologic character. The installation will be on view from July 12 to September 12, 2018 at Socrates Sculpture Park in Astoria, Queens.
Forking Time in Contemporary Art: Steven Holl-designed ICA to open this week
The Steven Holl Architects-designed Institute of Contemporary Art (ICA) at Virginia Commonwealth University (VCU) will open to the public later this week. Activating 41,000 square feet of flexible space, including a 33-foot-high central forum, the open design allows for dynamic exhibition and programming spaces that can support widely varied forms of contemporary art. On the first floor, a 4,000-square-foot gallery, café, bar, and concept shop radiate from the ICA's central forum and frame an outdoor garden, to be used for social gatherings and public programs. The first floor also features a 240-seat auditorium for film screenings, performances, lectures, and other programs. The second floor includes two forking galleries and an adaptable learning lab for interactive engagement. It also includes a publicly accessible terrace. The third floor features a gallery with soaring, 33-foot-high walls and houses one of the administrative suites and the boardroom. Additional staff offices are located in the building's lower level, which also includes a lobby for visitors, art storage and preparation facilities, a fabrication workshop, a green room, the catering kitchen, and general storage. In keeping with VCU's master sustainability plan, the ICA's design incorporates technologies and environmentally conscious design elements. The pre-weathered, satin-finish zinc exterior has interspersed clear- and translucent-glass walls and skylights that infuse the building with natural light and lessen reliance on nonrenewable energy. Geothermal wells provide heating and cooling energy for the building, and four green roofs absorb storm water, offset carbon emissions, and maximize insulation. The project is designed to meet LEED Gold Certification standards.
This Just In
From May 1 through 13, The Shed will present "A Prelude to The Shed," a free, pre-opening installation designed by NLÉ Works. The temporary, reconfigurable space will host 12 days of multi-arts event. The space will be located in a vacant lot at 10th Avenue and 31st Street in Manhattan, one block from the cultural center by Diller Scofidio + Renfro in collaboration with the Rockwell Group, scheduled to open in spring 2019.
Save the Date: Daylight Hour will take place on Friday, June 22, 2018 from 12:00 to 1:00 PM.  Daylight Hour is an annual social media campaign to raise awareness about using natural daylight in lieu of electric lighting in offices.