October 31, 2018
by: Linda G. Miller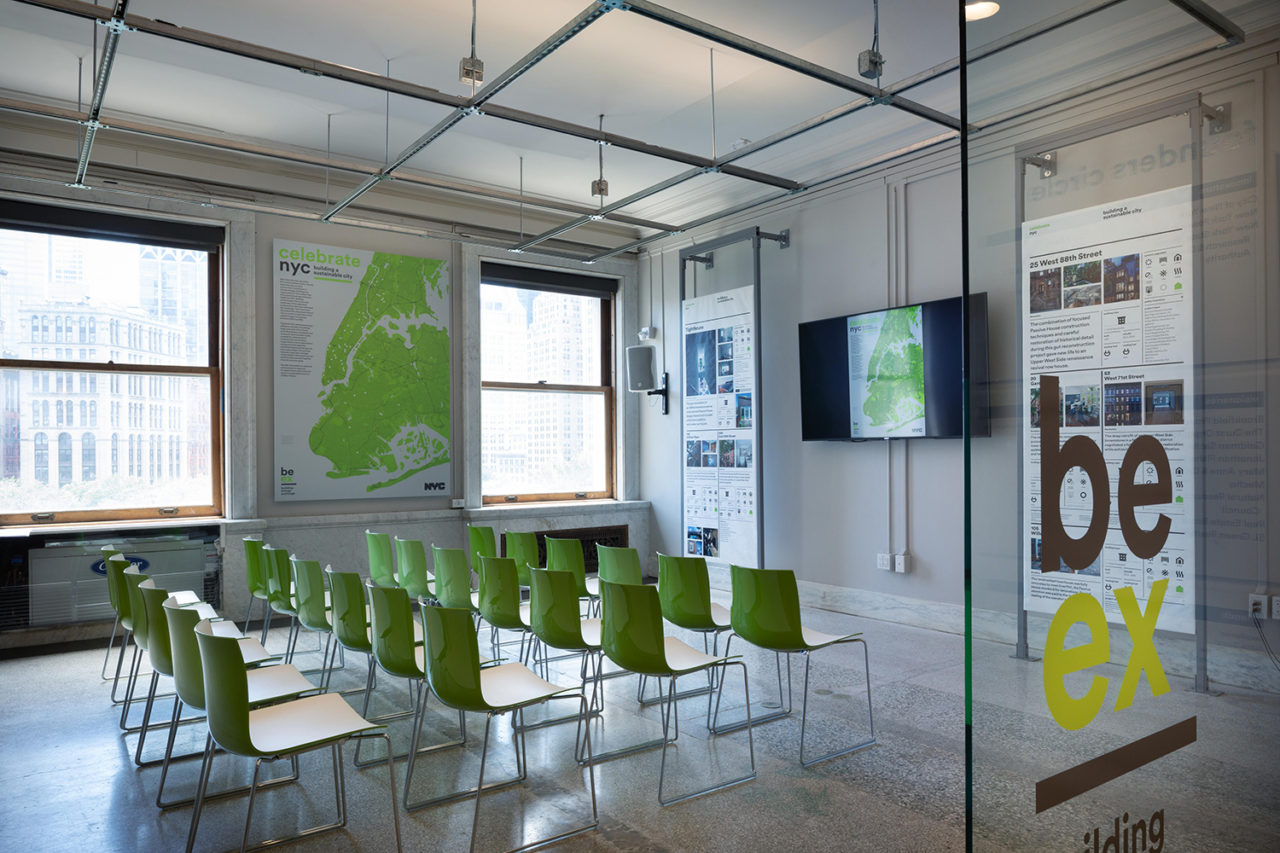 Learning Landscapes
BIG-designed WeGrow school opens in NYC
WeGrow has partnered with BIG – Bjarke Ingels Group to create a 10,000-square-foot school in WeWork's headquarters in Chelsea. The school, for children aged three to nine, is designed for learning to be a transformational and holistic experience. A field of super-elliptic objects with a variety of functions allows children to move freely throughout the day, learning from the environment around them and from each other. The environment is meant to encourage collaboration by emphasizing transparent and communal spaces. These take up more than half of the space and include four classrooms, flexible workshops, community space, a multi-purpose studio, an art studio, a music room, and other playscapes. Each learning station includes furniture with details designed by BIG to optimize the educational environment. Most of the partitions inside of the school are shelves raised to the level of children, allowing natural light to reach deep inside the building. Three different shelving levels for each age group curve occasionally to create various activity pockets and give a feeling of comfort, safety, and community, while allowing teachers to observe activities throughout. Above, acoustic clouds made of felt reflect different patterns found in nature and are illuminated with bulbs that shift in color and intensity based on the time of day. Other elements inspired by nature, such as mushroom shelves, a magic meadow with soft pebbles, and reading hives fill the learning environment. The lobby can be used as a work, meeting, and waiting area and features felt nooks and a giant puzzle of a brain. BIG's founding partner and creative director, Bjarke Ingels, has also served as WeWork's chief architect since May 2018.
Eat, Drink, and View
Woods Bagot designs FiDi restaurant and event space
Union Square Hospitality Group's new restaurant, Manhatta, and its next-door event space, Bay Room, now occupy the entire 60th floor of 28 Liberty. Designed by Woods Bagot in collaboration with the restaurateur and Fosun, the owner of the building, the 38,000-square-foot space boasts views on all four sides. Inspired by Walt Whitman's poem "Manahatta," the 90-seat restaurant reflects the cultural and industrial history of the Financial District, while echoing the International-style sensibilities of the 1961 SOM-designed building. The restaurant's 40-foot-long, black walnut bar is one of the longest in the city. Beyond the open kitchen is one of two dining areas, which features warm woods and walnut tabletops, exposed stone, polished bronze ornamentation, and mid-century-style chairs. Arc pendant lights are made of perforated bronze, designed to minimize reflections on the picture windows. Over 100 pieces of art were chosen for the space as part of a larger partnership with the Artist Pension Trust (APT). The rotating collection will showcase a mix of works, ranging from emerging local talent to established international artists. Access to the 60th floor is via a dedicated ground-floor lobby for what is billed as a seamless street-to-sky guest experience.
Home for Modern Art in a Medieval Town
Studio Libeskind's Modern Art Museum recently opens in Vilnius
The new Studio Libeskind-designed MO Modern Art Museum in Central Vilnius recently opened its doors to reveal a collection of nearly 5,000 never-before-seen works by Lithuanian artists from 1950 to the present. With a new public plaza located steps away from the historic medieval city, the over-33,000-square-foot museum stands as an expression of Vilnius past and present, conceived as a cultural gateway connecting the 18th-century grid to the medieval walled city. The concept is inspired by the historic gates Vilnius and references the local architecture both in form and materials. The rectilinear exterior façade is clad in luminous, white plaster. As visitors approach the museum, they encounter a dramatic open stair that intersects the museum on a diagonal axis, creating an expressive counterpoint to the minimalist façade. The stair cuts the façade open, connecting the street with the upper levels of the museum. At the top of the exterior stair is a stepped open-air terraced roof that serves as a place for public performances and talks. A 16-foot cantilevered, fully-glazed wall allows views from the galleries to the public terrace. On the northern side of the building, visitors will enter through a two-story, 26-foot-tall glazed entrance into a light-filled lobby. Geometric interior skylights cut through the building, ushering in daylight to the lower floors. An interior glazed opening offers visitors a peek behind the scenes and into the collection storage vault. Near the entrance, a black spiral staircase connects the main gallery with the lower lobby and punctuates the museum's core. The galleries are laid out as open floor plans that provide over 4,200 square feet of exhibition space. In addition, the museum contains a café, a bookstore, educational areas, an auditorium, as well as storage and administrative space. The project was designed in collaboration with Vilnius-based Do Architects and Baltic Engineers.
You're Invited to Stop, Wonder, Smile, and be Happy
Studio Cadena wins Flatiron Public Plaza Holiday Competition
Brooklyn-based Studio Cadena, a 2016 AIANY New Practices New York winner, is the winner of the fifth-annual Flatiron Public Plaza Holiday Design Competition, organized by the Flatiron/23rd Street Partnership Business Improvement District (BID) and the Van Alen Institute. The studio's proposal, Happy, features 24 softly-shaped transparent vinyl screens that drape down from an open frame to inscribe a space that will be used to host programs and events. The installation's colored surface projects a highly visible and memorable figure from a distance, and up close, filtering views inside and out by infusing the surrounding area in a saturated glow. Gently swaying in the breeze, the drapes shimmer while casting long colored shadows in the low light of late fall and early winter. At night, the panels reflect and glow as the installation becomes a beacon during the cold winter month. The installation, which will be assembled on site, will remain on view through the holidays as part of the Partnership's "23 Days of Flatiron Cheer" programming. Permitted through the NYC DOT Art, it will be open, weather permitting, through January 1, 2019. The competition began in June 2018, when the organizers invited eight design and architecture firms to submit proposals: Agency—Agency, Brandt, Haferd, MODU, N H M D, Office III, P.R.O – Peterson Rich Office, Studio Cadena, and Wolfgand & Hite.
Be Best for Buildings
Building Energy Exchange headquarters by ARO stay true to organization's mission
One of Archtober's closing events took place at the Building Energy Exchange (BE-Ex), located in the Surrogate's Courthouse, a landmarked Beaux Arts-style masterpiece at 31 Chambers Street originally designed by John R. Thomas in 1907. BE-Ex, an independent non-profit organization, perhaps best known for its Daylight Hour initiative, plays a central role in the climate action plans of New York City and State through education and exhibitions that advance energy efficiency in buildings Ensuring that their renovation both utilizes and explains the tools available to reduce the building's carbon footprint was crucial to the organization's mission. The corner space on the sixth floor of the building was designed in two phases by Architecture Research Office (ARO), who highlighted the existing historic materials and finishes while adding modern, energy-efficient elements. The rooms BE-Ex occupies feature tall ceilings and large windows overlooking City Hall. The new design combined two rooms to create a single space, with a metal mesh ceiling above to provide quality lighting, sound, and acoustics for the flexible classroom space. An exhibition room and demonstration room provide additional educational spaces. A new entry vestibule with a large glass door is a welcoming introduction to the bright, airy renovation. A highly efficient HVAC system replaced old radiators, with new A/V, automated shades, and LED lighting tied together through an integrated control system. As much of the existing fabric of the space was maintained, including the original mahogany doors and extensive marble trim and fireplaces throughout the space. Terrazzo floors were refurbished throughout, adding antiqued bronze plate infills where existing floors were modified. Their current exhibition, Celebrate NYC, showcases 60 energy efficient retrofit projects.
This Just In
David van der Leer, long-time executive director of the Van Alen Institute, is stepping down from the organization to launch his consulting firm, DVDL Design Decisions. Elissa Black, the current managing director, will serve as interim executive director. Van Alen will begin a global search for the new executive director next month.
Mathews Nielsen Landscape Architect (MNLA) has completed the Spring Street Park, a project for the Hudson Square BID and the City of New York. The half-acre park, which is part of the BID's Streetscape Master Plan, converts a triangular "green street" into an oasis for the public and offers comfortable lunchtime seating, as well as the potential for future programming.
Studio Daniel Libeskind is designing a transnational memorial which will unite, for the first time, countries, regions, important sites, milestones, and stores focusing on the last phase of World War II. Using a series of markers called "Vectors," this trail will stretch from London to Berlin and is expected to be inaugurated in 2010.
FXCollaborative has promoted Max Carr, AIA, LEED AP; Sisto Tallini, AIA, LEED GA; and Austin Sakong, AIA, LEED GA, to senior associates.
Wishing The Architect's Newspaper a happy 15th Anniversary!